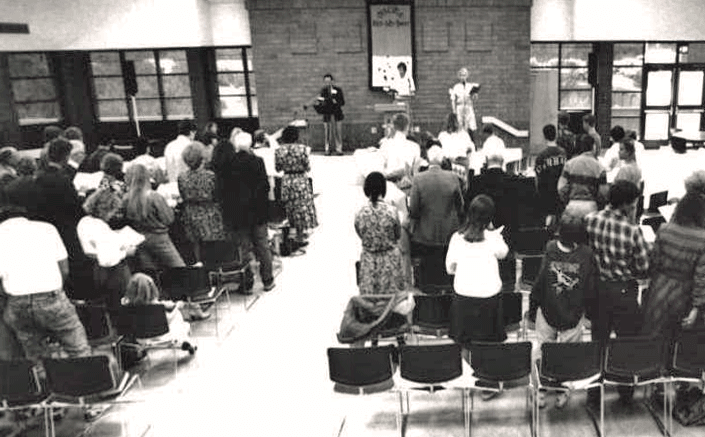 Grace Community Church began life in 1983 as an exploratory Bible study led by Rev. Sam Schutz of the Evangelical Covenant Church.
This nucleus group called the Rev. Dan Johnson and his wife, Sue, from Pittsburgh, PA. Dan led the first church service on March 23, 1985. Under Dan's leadership, the church began meeting in the library of Orange Grove Middle School.
The new church focused its outreach in the Catalina foothills community. Attendance grew to an average of 120 a Sunday by June 1992, when Dan Johnson followed the Lord's calling to pastor a Covenant church in Indianapolis, IN.
Rev. Scot Gillan became Grace's pastor on December 20, 1992. Under Scot's leadership, the church bought land and built its first building at 9755 N La Cholla Blvd, shifting its focus to the northwest side of Tucson and Oro Valley. The church grew steadily and made the decision in 1998 to call Jed Hollenbach as full time youth pastor. Jed was later ordained and became an Associate Pastor at Grace.
In 2020, Scot Gillan was called to a church in Illinois. On June 20, 2011, the Rev. David Hillis began full-time ministry as Grace's new lead pastor. David came to Grace from Hope Covenant Church in Chandler, AZ, where he helped develop programs in adult Christian discipleship and outreach. While working at Hope, he was made aware of the terrible plight of young women who are victims of domestic minor sex trafficking in Phoenix and other large cities. He helped organize a Tucson-wide effort in the faith community to help fight this scourge.
During this same time the church called Brian Brinkley to be our Youth and Young Adults pastor.
Grace's current pastor is the Rev. Sam Gyorfi. Sam was an associate pastor at the International Church of Zurich, Switzerland and accepted a call to ministry at Grace in September, 2021. Sam is passionate about teaching the Scriptures and making Grace a ministry of light and hope to our community. You can read more about Sam and his family here.