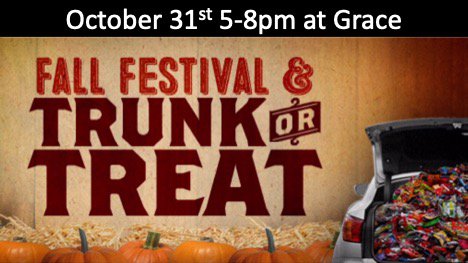 New at Grace!
Fall Festival & Trunk-or-Treat
Save the date and invite your friends and neighbors to Grace's Fall Festival and Trunk-or-Treat event! This is a great way for us to reach those in our communities who don't normally set foot on church properties in a non-threatening and fun way!
When: Thursday, October 31st, 5-8pm
Where: at Grace Community Church
Info: We'll have free hot dogs, games, inflatables, trunk decorating contest, prizes and more!
Halloween offers an opportunity to engage our neighbors who don't know Jesus. It is a time when we have the chance to open up our lives to our neighbors, with the hope of open doors for gospel conversations and an invitation to attend our church.
Get involved in the fun:
· donate: candy, pumpkins, Fall decorations, cash
· decorate: the trunk of your car for children to visit and receive candy
· volunteer: set up, running a game or activity, clean up
Have a business? Consider donating and joining our Wall of Sponsors. A business resource table will be available for you to have a business brochure available for the community event.
For more info, contact Selah Delgado ([email protected]) or Judith Gilpin-Gregor ([email protected])
Check out more at: https://mygrace.church/festival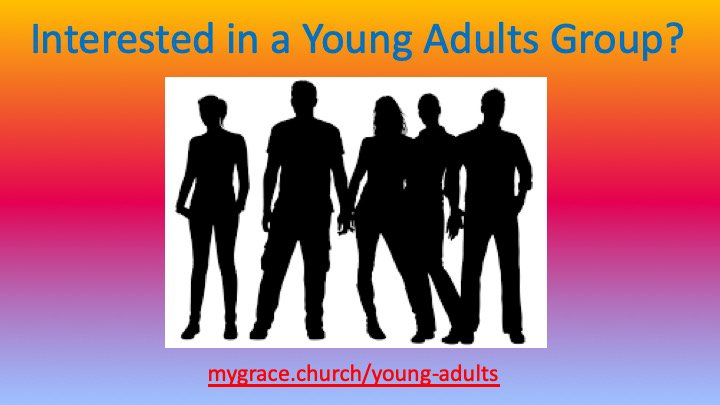 Young Adults
Looking for a group?
Are you interested in forming a group with people who: can relate to the things going on in your stage of life, who want to connect in meaningful ways, who want to deepen their faith & serve their community…all while having fun?
If so, let us know at: mygrace.church/young-adults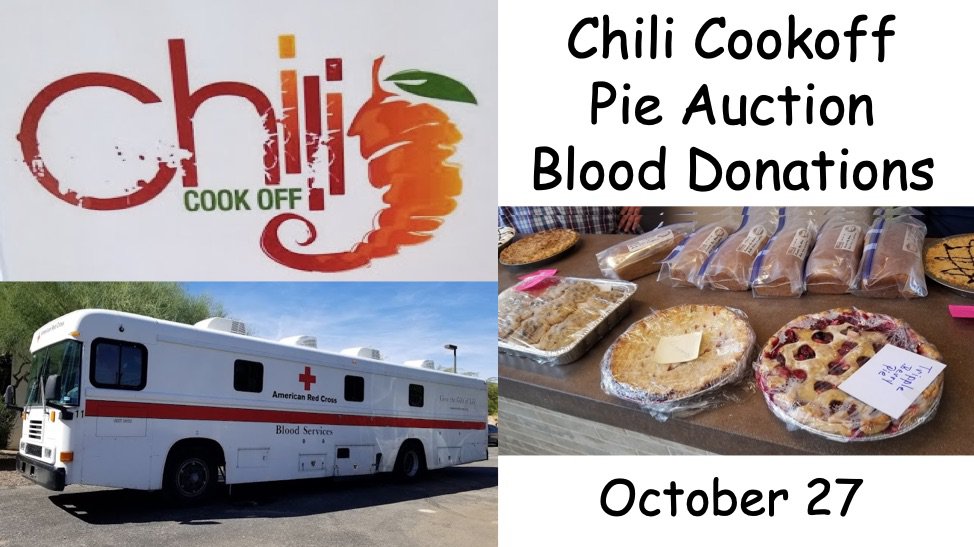 Annual Chili Cookoff, Pie Auction & Blood Donation
Don't Miss This Fun Event on October 27th!
Think you've got what it takes to win the Golden Ladle this year? Willing to put your best pie up to get the highest bid? Then Grace is the place for you on October 27th! The Blender (GCC's Youth Group) will be putting on this fun event, so bring your favorite chili and/or your best baked goods to church that day and see if you can be our next big winners!!
By the way
This is a great time to bring a neighbor or friend along with you. You can invest in relationship with them with a simple invitation to come and enjoy services and our fun time after 2nd Service. Don't miss this opportunity to bless them!
To enter the Chili Cookoff, you can sign up at the table in the breezeway or at: http://bit.ly/OctChili
Not only does it enter you to possibly win the coveted Golden Ladle, but it helps us get a feel for the amount of food we'll have to serve everyone on October 27th.
Bring your chili to Grace in a crock pot or other electric warming appliance by 10:00 am on Sunday, October 27th. Chili will be tasted, judged and prizes will be handed out.
After second service, everyone is invited to stay for chili and cornbread and for the fun and excitement of our pie auction! Proceeds from the auction will benefit the Blender!
AND don't forget to sign up to donate blood on this day as well! The American Red Cross will bring a Bloodmobile to Grace between 8am-1:30pm, so it will be super convenient for you to help support people in need.
You can sign up at the table in the breezeway or online at: http://bit.ly/grace-blood-drive