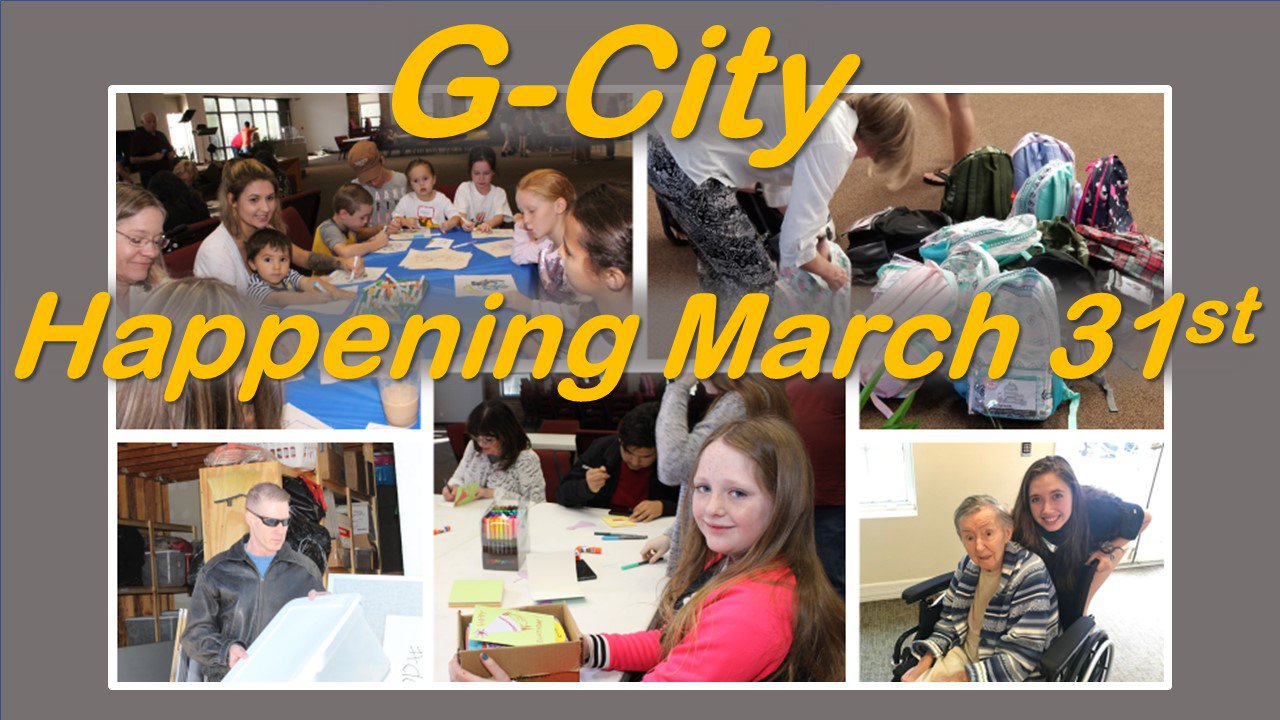 G-City's Coming!
Sign-Up to Serve!
It'll be here before we know it! Our next G-City Sunday is March 31st.
On March 31st, we will only hold one service, namely at 9:00am. Following that, we'll have a number of projects designed to help you exercise your gifts and your faith, projects that will help to bless all kinds of people in our community.
Ready to help out? Sign up in the breezeway or at mygrace.church/g-city any Sunday before 3/31 – and/or bring in designated donation items!
What's G-City? It's our "Grace to the City"…it's our "Genero-city"…it's our Generations serving together to impact our community.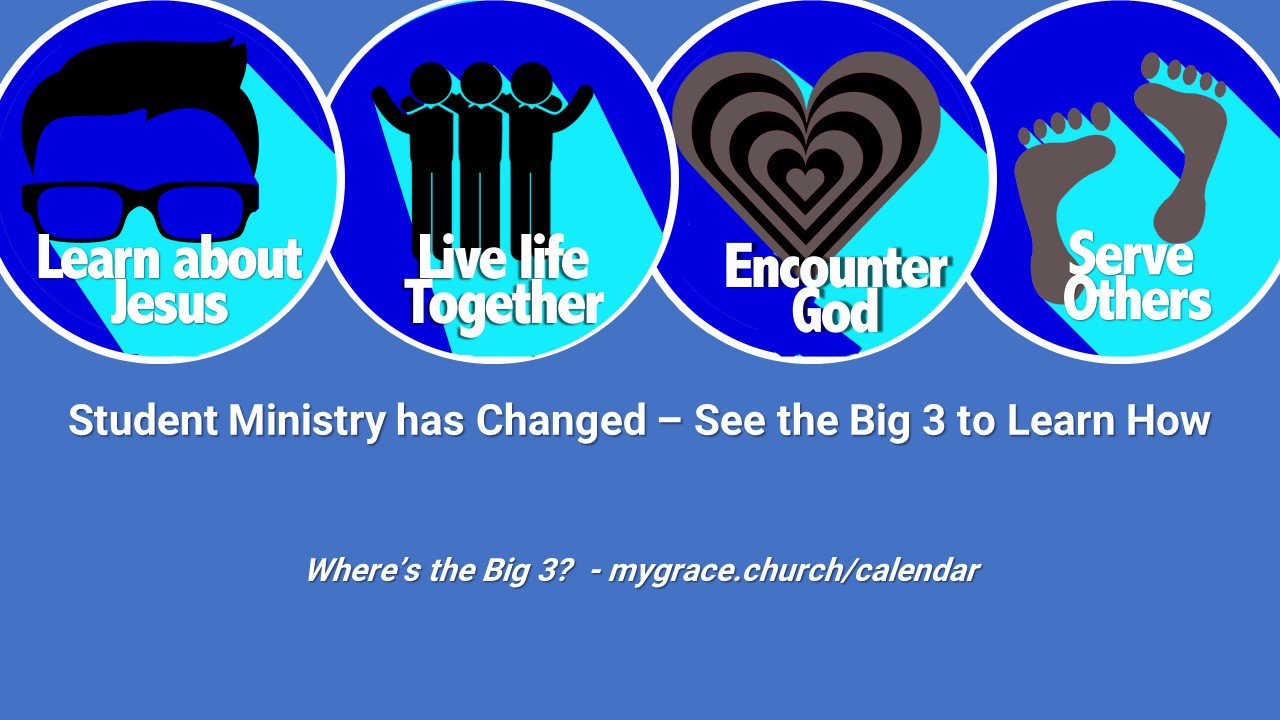 Student Ministry Changes
With families and teens being busier and busier these days, making it to youth group on Sunday nights is becoming trickier. Often times Sunday nights are the only time to do homework, or the only night a week the family can be together without any other commitments conflicting. Because of this, the normal trend of a "regular attender" to youth programs is that we see students once a month. Because of this evolving reality in our families' lives, it's more important than ever that the Blender be flexible and provide multiple opportunities a week to meet with students.
In January, in addition to our normal Sunday night Blender, we added small groups during the week for our students. High School groups meet Wednesday nights and Middle School groups meet Friday nights. This is a big change and transition from what we have done in the past, but we are excited to see how God works in the change!
For more info about our Student Ministry, check it out at mygrace.church/students or email Pastor Brian.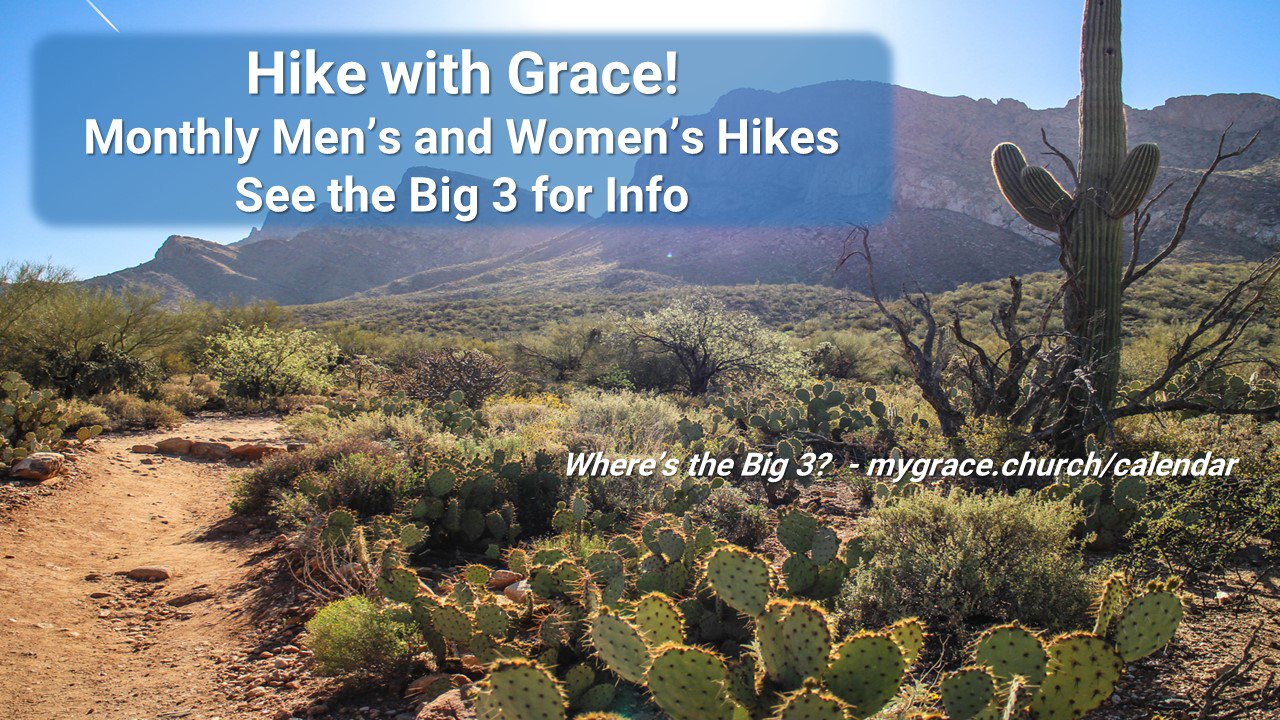 Like to Hike?
Join Us!
Did you know that we have monthly women's and men's hikes that you're more than welcome to join? Well, we do!
The ladies hike a different trail each month on the 2nd Saturdays. They meet at the church or another specified area. For info on future hikes, email Deb Peterson, coordinator.
The men hike a light to moderate difficulty trail each 3rd Saturday of the month. Hikes meet in the Grace parking lot at 7:30am unless otherwise noted. For info or ideas for future hikes, and to get on a monthly email or text notification, email Pastor Dave.
APRIL MEN'S HIKE: Romero Pools hike & swim, 5.8 miles, 1000ft elevation gain. Meet at Chase Bank parking lot across from Catalina State Park, 7:30am. Easy-to-follow trail allows those going to go at their own pace, so you don't have to worry about going to fast or too slow. Bill Mollberg will lead. (more info about the hike)
Be sure to bring adequate water, snacks and sunscreen!
You can always find out about hikes and other info about what Grace is up to by visiting our calendar at mygrace.church/calendar – just scroll down past the Big 3 topics and you'll find all the scoop!