Join a Group! Starting August 13th
Welcome to Grace's Short Term Groups!
At Grace, relationships matter. Maintaining intentional relationships are a key way we grow in our love for God and for others.
One way that we encourage relationship building at Grace is through something we call "Short-Term Groups."
Short-Term Groups meet concurrently on Tuesday evenings, each for 4-10 weeks. Each group will have a different focus, and you can sign up for one of the groups ahead of time, right here on this page.
The idea is to offer Short-Term Groups a few times during the year to enable you to sign up for different topics, and to make new friendships. Ultimately, as friendships grow, it's possible that we'll see new Life Groups emerge.
More info? Questions? You can contact Sue Montanez ([email protected]) or Jim Heddles ([email protected])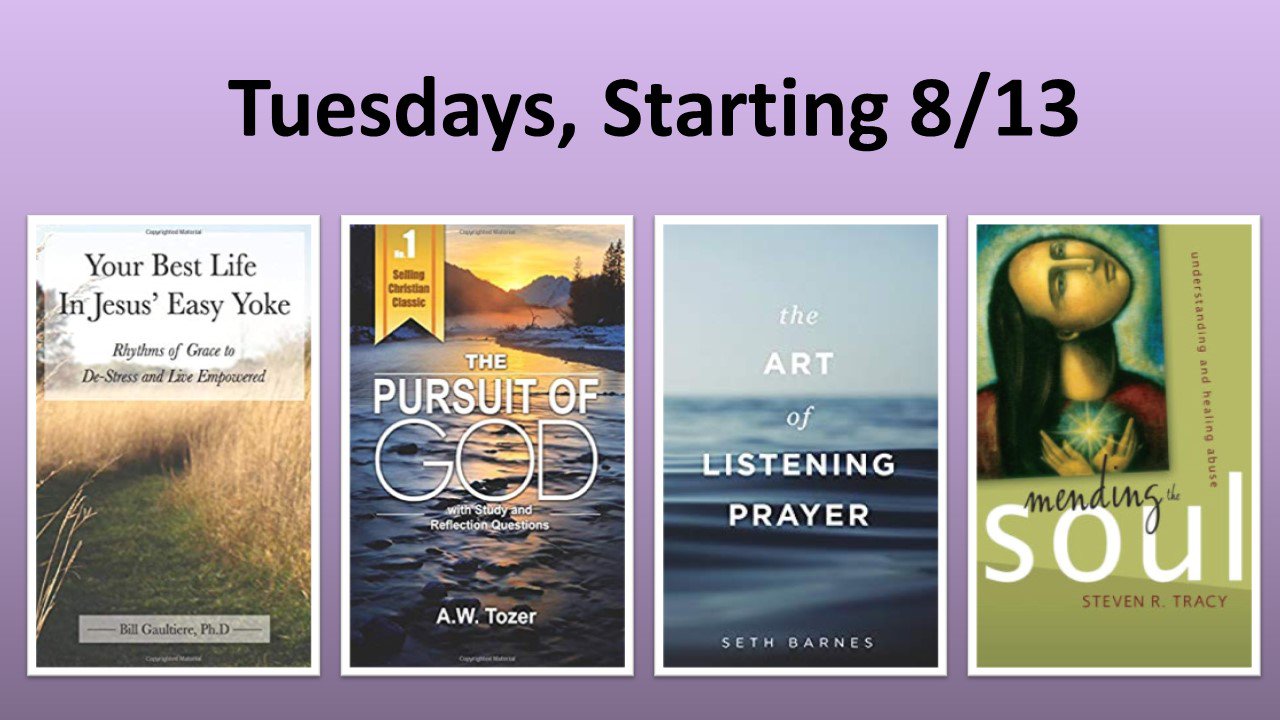 The When, Where
Four new groups will start Tuesday, August 13th.
All groups will meet at Grace starting at 6:30pm and ending by 8:00pm.
Childcare will be provided (be sure to specify if you require it!)
Snacks will be provided at 6:20pm...you can stop in for a little social time, grab a lite bite and take it with you to your group session starting at 6:30pm. Donations appreciated!
The Groups (see below for descriptions):
YOUR BEST LIFE IN JESUS' EASY YOKE: by Bill Gaultiere is an invitation to grow in Christlikeness and live according to the "light" burden and "easy" yoke that Jesus promises. Each chapter emphasizes the person of Christ, God's Word, and spiritual disciplines to help us apply the material to our lives. Please join group leaders Jim and Brenda Heddles as we learn and grow together.
THE PURSUIT OF GOD Do you desire to know God? To have inward peace like never before? To see your faith refreshed and renewed? To have your life transformed by a walk with God you didn't think was possible? Join group leader Brian Brinkley in a discussion of this life-changing book by A.W. Tozer. It's is a book that will challenge you, encourage you and inspire you. It's a book you'll read again … and again .. and again.
LISTENING PRAYER: Grab your prayer journal and start listening to what God wants to say to you today. Group leader Sue Montanez will lead us in reading and discussing The Art of Listening Prayer by Seth Barnes. We'll learn how God wants to speak to us personally, how to draw closer to Him, and how to use a practical process to hear from him on a daily basis.
MENDING THE SOUL provides biblically rooted and psychologically proven abuse-healing curricula, and delivers them in community-based settings worldwide. Join group leader Teresa Hillis in a small group setting which is a safe place for transformative healing within a trauma-informed, theologically sound nurturing community.
Ready to Sign Up?
Have You Participated in a Short-Term Group at Grace?
Tell us about your experience! We'd love to know if and how you felt closer to God and others, or if there were any ways we can make improvements! You can email Sue Montanez ([email protected]) or Jim Heddles ([email protected]) with your feedback!