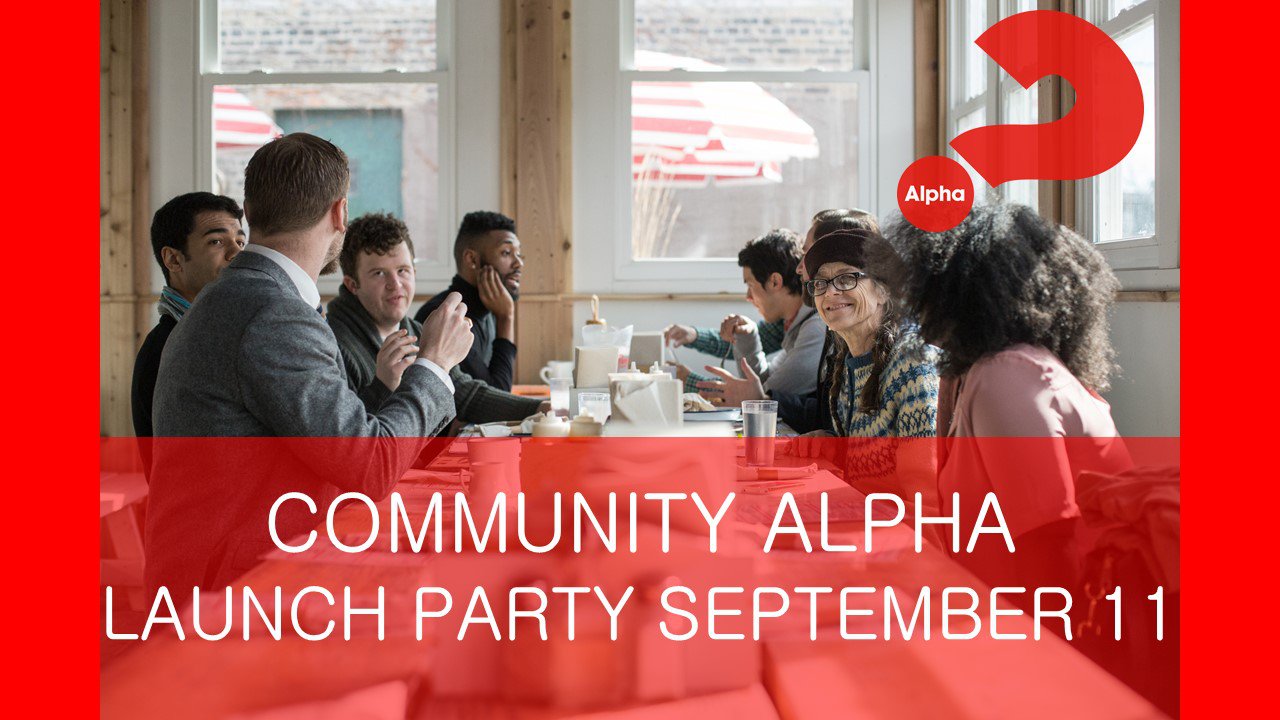 Something New Is Happening!
Starting Wednesday, September 11, come and invite your friends to a launch party for a new Alpha experience here on the northwest side of town.
Party? Yeah!!! PARTY!
Grace is partnering with several local churches to put on an Alpha session at Roadrunner Coffee on Wednesdays from 5:30pm – 7:30pm this fall. But, to get things rolling, we are throwing a party first...with a provided meal and drinks, along with great fellowship to help people get to know what Alpha is all about. After the party, we'll start Alpha at Roadrunner in a special attempt to help those unfamiliar with being at church feel comfortable in attending.
Who do you know that might be curious about Christianity? Or who might be ready to deepen their faith?
Maybe that's you?
Alpha is a perfect way to do those things. It's a space to explore life's big questions, to say what you think and to hear other people's points of view. Please consider joining us on Wednesday, September 11th, and bring your friends, as we launch a new Alpha experience here on the northwest side of town. We're so excited about this that we're throwing a party...with a provided meal and cash bar, along with a short introduction to what Alpha is all about.
Where: Roadrunner Coffee Co (9665 N Thornydale Rd Ste. 110, Tucson, AZ 85742)
When: Wednesday, September 11th, 5:30pm
Where to RSVP: http://bit.ly/alpha-tucson
What's Alpha?
We believe everyone should have the opportunity to explore the Christian faith, ask questions, and share their point of view. Alpha is an opportunity to explore the basics of the Christian faith in a low-key, friendly setting. Good friendships inevitably result.
Check out this brief video clip about Alpha:
Our Community Alpha at Roadrunner Coffee is a series of sessions designed for people exploring Christianity, as well as for Christians who wish to go deeper in their faith. Alpha is a safe, fun place to have open conversations about your questions. There's no charge.
After our launch party, Alpha will meet on Wednesdays over the course of 10 weeks. Each evening starts with a simple meal provided by us, and a cash bar for drinks. Next we'll have a video-based talk, followed by a relaxed, small group discussion. Nobody has to speak unless they want to.
Alpha covers questions such as:
Is there more to life than this?
Who is Jesus? Why did He die?
How can I be sure of my faith?
Why and how should I pray/read the Bible?
How does God guide us?
Does God heal today?
Who is the Holy Spirit? What does He do?
Toward the middle of the session, there is an optional day-away that focuses especially on the Holy Spirit.
For more information on the Alpha Course, check out the Alpha USA website or contact Sue Montanez at 480-369-6494 or by email at [email protected]